Skip to Main Content
It looks like you're using Internet Explorer 11 or older. This website works best with modern browsers such as the latest versions of Chrome, Firefox, Safari, and Edge. If you continue with this browser, you may see unexpected results.

Beginning this summer and throughout the fall semester,
we are working to upgrade the research experience by making ongoing improvements to our Research Guides.
You may encounter changes in the look and feel of the Research Guides website along with structural changes to our existing guides. If you have any questions or concerns about this process
please let us know
.
English Civil War (1640 - 1660)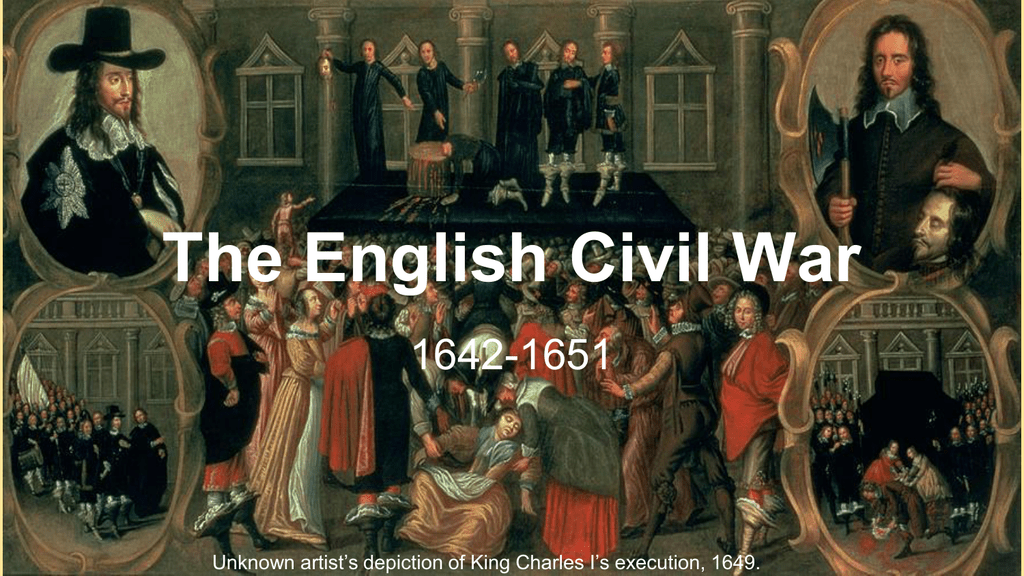 The English Civil War (1642–1651) was a series of civil wars and political machinations between Parliamentarians ("Roundheads") and Royalists ("Cavaliers"), mainly over the manner of England's governance and issues of religious freedom. It was part of the wider Wars of the Three Kingdoms. The first (1642–1646) and second (1648–1649) wars pitted the supporters of King Charles I against the supporters of the Long Parliament, while the third (1649–1651) saw fighting between supporters of King Charles II and supporters of the Rump Parliament. The wars also involved the Scottish Covenanters and Irish Confederates. The war ended with Parliamentarian victory at the Battle of Worcester on 3 September 1651.
Book Sources: English Civil War
Acts and ordinances of the interregnum, 1642-1660

by

Great Britain

Call Number: Online - free - HathiTrust

Collected and ed. by C. H. Firth and R. S. Rait for the Statute law committee.

The Archbishop of Canterbury's Speech

by

William Laud

Call Number: Online - free - HathiTrust

or, His funerall sermon, :
preacht by himself on the scafolld on Tower-Hill, on Friday the 10. of January, 1644. Upon Hebrews 12.1, 2, also the prayers which he used at the same time and place before his execution.

Articles Exhibited in Parliament against William Archbishop of Canterbury, 1640

by

William Laud

Call Number: Online - free - HathiTrust

Charles I in 1646 letters of King Charles the First to Queen Henrietta Maria

by

Charles I, King of England

Call Number: View Online

Letters of King Charles the First to Queen Henrietta Maria ; edited by John Bruce.

Charles I in Captivity, from Contemporary Sources

by

Gertrude Scott Stevenson, editor

Call Number: Online - free - HathiTrust

The Commonwealth of England

by

Charles Blitzer (editor)

Call Number: Online - free - HathiTrust

Documents of the English civil wars, the Commonwealth and Protectorate, 1641-1660

The Constitutional Documents of the Puritan Revolution, 1625-1660

by

Samuel Rawson Gardiner

Call Number: Online - free - HathiTrust

Correspondence of Sir Robert Kerr, first Earl of Ancram, and his Son William, third Earl of Lothian

by

Robert Kerr

Call Number: Online - free - HathiTrust

The Court and Times of Charles the First

Call Number: Online - free - HathiTrust Digital Library

containing a series of historical and confidential letters, including memoirs of the mission in England of the Capuchin friars in the service of Henrietta Maria, and a variety of other particulars not mentioned by our historians / transcribed from the originals in the British Museum, state paper office, and private collections, by Thomas Birch.

The Diary of the Rev. Ralph Josselin

by

Ralph Josselin

Call Number: Online - free - HathiTrust

The Diplomatic Correspondence of Jean de Montereul and the Brothers de Bellie̲vre

by

Jean de Montereul

Call Number: Online - free - HathiTrust

History of his Own Time

by

Gilbert Burnet

Call Number: Online - free - HathiTrust

with the suppressed passages of the first volume and notes by the Earls of Dartmouth and Hardwicke and speaker Onslow, hitherto unpublished. To which are added the cursory remarks of Swift, and other observations

The History of the Rebellion and Civil Wars in England

by

Edward Hyde, Earl of Clarendon

Call Number: Online - free - HathiTrust

to which is added an historical view of the affairs of Ireland.
By Edward Earl of Clarendon

King Charles, Prince Rupert and the Civil War

by

Charles Petrie

Call Number: View Online

ISBN: 9781000220179

Publication Date: 2020-10-27

Letters Between Col. Robert Hammond... Relating to King Charles I

by

Robert Hammond

Call Number: Online - free - Google Books

Memoirs of the Life of Colonel Hutchinson

by

Lucy Hutchinson

Call Number: Boca Raton General Collection DA407.H9 H7 1973

ISBN: 9781842121085

The Several Speeches of Duke Hamilton Earl of Cambridge, Henry Earl of Holland, and Arthur Lord Capel

Call Number: Oline - free - HathiTrust

upon the scaffold immediately before their execution, on Friday the 9. of March

Sydney Papers

by

R.W. Blencowe

Call Number: Online - free - HathiTrust

Consisting of a journal of the Earl of Leicester, and original letters of Algernon Sydney

The Trial of Charles I: A Documentary History (ebook)

by

David Lagomarsino (Editor); Charles T. Wood (Editor)

Call Number: View Online

ISBN: 9780874514995

Publication Date: 1989-11-01

A true copy of the journal of the High Court of Justice, etc. The trial of Charles the First, King of England, before the High Court of Justice, for high-treason

by

Charles I (King of England), John NALSON

Call Number: Online - free - Google Books

To which is added, The journal of the High-Court of Justice ... With additions, by J. Nalson

The Works of King Charles the Martyr

by

Charles I (King of England), William Fulman, Richard Perrinchief

Call Number: online - free - Google Books

Note: The author is questioned by historians. It has also been attributed to Bishop John Gauden.
with a Collection of Declarations, Treaties, and Other Papers Concerning the Differences Betwixt His Said Majesty and His Two Houses of Parliament

Yorkshire Royalist Composition Papers

by

John William Clay, editor

Call Number: Online - free - HathiTrust